KIRIMLI DR. AZIZ BEY INTERNATIONAL HUMANITARIAN LAW MOOT COURT COMPETITION & ADVANCED SUMMER SCHOOL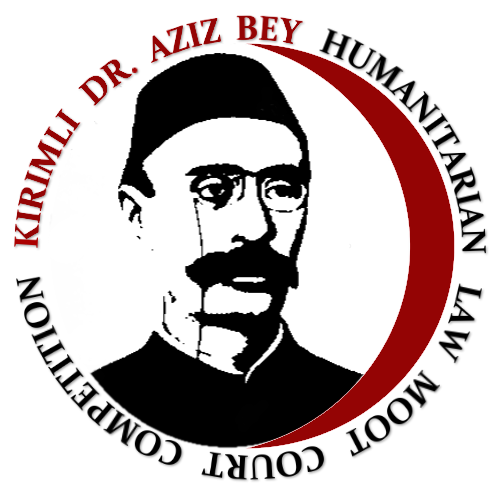 KIRIMLI DR. AZIZ BEY INTERNATIONAL HUMANITARIAN LAW MOOT COURT COMPETITION & ADVANCED SUMMER SCHOOL
CALL FOR APPLICATIONS
1st Edition – Online
Organizers: Istanbul Center of International Law (ICIL) & Türk Kızılay (Turkish Red Crescent)
Partner Institution: International Committee of the Red Cross (ICRC)
Istanbul Center of International Law has been organizing academic events to promote International Humanitarian Law (IHL) in Turkey since 2016. This year, the ICIL and Turkish Red Crescent will organize an IHL program named after Kırımlı (Crimean) Dr. Aziz Bey who was one of the founders of the Turkish Red Crescent movement in the 19th century. Due to the current situation regarding the COVID-19 outbreak, we will conduct all the activities online. The program comprises an advanced IHL summer school and a practical IHL moot court competition.
Dates:
30 May – 17 July: Application Period (Applications until 1 July will be considered as early bird and will benefit a 20% discount to the registration fee.)
21 July: Announcement of the participating teams
August 2020: Advanced IHL Summer School consisting of 8 online lectures (two lectures per week) prerequisite for the competition.
7-11 September 2020: Competition dates
Who Can Apply?
All institutions teaching IHL may apply. An institution may be represented in the competition with a maximum of one team. In case of more than one application from an institution, only one team will be selected based on the overall quality of the application. A team consists of three students. Only bachelor and master students can apply; Ph.D. students are not allowed to take part in the teams. Students over 30 years old might only apply on an exceptional basis since there would be an imbalance in IHL knowledge and practice. All participants would have to be enrolled as students at the time of application.
Selection Criteria:
60% the quality of the answers for questions in the application form
40% assessment of CVs of applicants (e.g. relevant IHL education and experience)
Working Language: English
How to Apply?
Applicants should send their CVs (in English), an official document proving they are currently enrolled as students and the application form as one PDF file to azizbeyihl@icil.org.tr before the deadline. You can access the application form here

.
About the IHL Moot Court Competition & Advanced Summer School
The Advanced IHL Summer School will be exclusive for the participants of the competition. External applications for the summer school are not possible.
The moot court competition is based on role-playing exercises to evaluate participants' knowledge of IHL and other related fields of Public International Law and the students' ability to apply the law in practice. All teams will compete 3 times in the elimination rounds. Based on the aggregated results, finalist teams will be determined.
The main themes for this year's competition are as follows; Law of Occupation, Urban Warfare, Protection of Medical Personnel, Terrorism & IHL, Naval Blockade, New Weapon Technologies, Classification of Conflict and Protection of Aid Workers.
Certificates & Prizes
Students who participate in all the webinars and take part in the moot court competition will be awarded two separate certificates of attendance. The winning team members and the best speaker will also be awarded another certificate for their accomplishments.
There will be vouchers from a leading publisher and 50% discount to ICIL's Winter and Summer Academies of International Law for the following academic year;
Members of the winning team
Members of the most progressed team in the elimination rounds
Best speaker
Registration Fee for the IHL Moot Court Competition & Advanced Summer School
Early Bird Registration Fee for the IHL Moot Court Competition & Advanced Summer School: 100 Euro for the team! (Deadline is 1 July 2020)
Regular Registration Fee for the IHL Moot Court Competition & Advanced Summer School: 125 Euro for the team (Deadline is 17 July 2020)
The registration fee must be paid only if the application is accepted. Limited financial assistance is applicable to teams in financial hardship. All the teams that would like to apply for financial assistance should submit a separate letter explaining their financial situation and including supporting documents to azizbeyihl@icil.org.tr The organization committee might ask additional documentation or clarification at a later stage.
Download
Contact
For further questions, please contact azizbeyihl@icil.org.tr
Follow us on our social media accounts for further information!